WHO WE ARE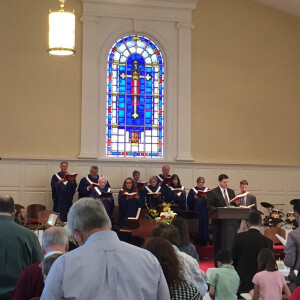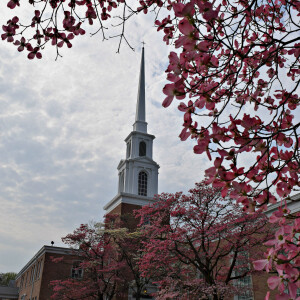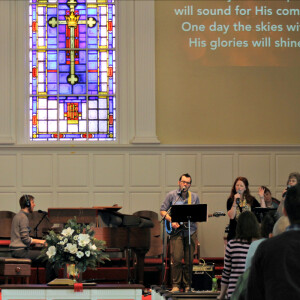 Faith church exists to worship God and proclaim the message of eternal life, radical transformation, and unspeakable joy through Jesus Christ.
We desire to be a place where the skeptic, the inquirer, and the committed follower of Jesus are welcomed and feel comfortable asking honest questions that receive clear, biblical answers. We worship God together, learn what it means to follow Jesus, build relationships with others, and serve our community.

---
OUR MINISTRIES
---
WHAT WE BELIEVE
Below is a summary of the basic doctrines that we hold as true:
The Bible is the inspired and inerrant Word of God, the only infallible rule of faith and practice.
There is one God, eternal and self-existing in three persons (Father, Son and Holy Spirit) who are to be equally loved, honored, and adored.
All mankind participated in Adam's fall from his original sinless state and is thus lost in sin and totally helpless.
The Sovereign God, for no other reason than His own unfathomable love and mercy, has chosen lost sinners from every nation to be redeemed by the quickening power of the Holy Spirit and through the atoning death and resurrection of His son, Jesus Christ.
Those sinners whom the Spirit quickens, come to believe in Christ as Savior by the Word of God, are born again, become sons of God, and will persevere to the end.
Justification is by faith and through it the undeserving sinner is clothed with the righteousness of Christ.
The goal of God's salvation in the life of the Christian is holiness, good works, and service for the glory of God.
At death the Christian's soul passes immediately into the presence of God and the unbeliever's soul is eternally separated from God unto condemnation.
Baptism is a sign of God's covenant and is properly administered to children of believers in their infancy as well as to those who come as adults to trust in Christ.
Jesus Christ will return to earth, visibly and bodily, at a time when He is not expected, to consummate history and the eternal plan of God.
The Gospel of God's salvation in Jesus Christ must be published to all the world as a witness before Jesus Christ returns.
---
FREQUENTLY ASKED QUESTIONS
Where is the church?
Faith Presbyterian Church is located at the intersection of I-95 and Marsh Road, in north Wilmington, DE. Get Directions.
What is worship like at Faith Church?
We have two styles, but we're one church with one faith. We have a Contemporary service where praise and worship is led by guitars, drums, a praise team, and a more relaxed style. We also have a Traditional service where songs are led by a traditional organ, a choir, and a bell choir.
What are the most important activities at Faith for someone visiting or regularly attending?
Regardless of where you are in your Christian life, there are three components we believe are essential for discovering your faith and growing spiritually -- corporate worship in one of our worship services, continual learning through our Sunday School program and caring relationships in one of our Community Groups. While there are many essential and important activities and opportunities to serve at Faith, these are the three in which we encourage everyone to be involved in. In addition, if you are investigating spiritual things or are new to our church, the best place to start is with Faith Explored, our 7 week overview of Jesus and Christianity offered twice a year on Wednesday nights.
What time should I arrive?
On Sunday mornings, our Contemporary worship service starts at 9:00am, the Sunday School hour begins at 10:15am, and our Traditional worship service begins at 11:15am. As scheduled, we meet for Sunday evening gatherings at 4pm or 6pm. Check our online calendar for more details.

What should I wear?
God accepts us as we are. Some choose to wear their "Sunday best", others come in more casual and comfortable clothes. Come as you are.

What about my children?
We have wonderful programs for our children here at Faith. We have an expansive nursery program with different classrooms for different ages. We have various age-appropriate Sunday School classes for school-aged children, and during the sermon portion of the morning worship services, children 4 through 3rd grade are welcome to join our Jr. Church programs where they can discover the love of Christ at their own level. On Wednesday evenings during the school year, we also hold our Kids Club program for children from 4 years old through 6th grade. We also have a wonderful Christian preschool, kindergarten, and after school care program. Get more About Children here.
Is Faith Church handicap accessible?
Yes, we are. Our renovated buildings include several accessible entryways, handicap accessible restrooms, and two elevators. Our sanctuary seating accommodates wheelchairs, and assistance is provided for those with visual and hearing impairments during the Sunday services.
---
OUR LEADERS
In a Presbyterian church, the daily administration and spiritual oversight of the church is managed by Ruling Elders, Teaching Elders (pastors), and Deacons.
We encourage you to contact one of these deacons/esses directly if you need to get in touch with them. Their contact information is in the church directory or you can email the church office.
Current Elders
Dave Anderson (RE): Youth Sunday School, Assimilation
Frank Barlow (RE): Evangelism Training, Missions Committee
Ethan Dunham (RE): Clerk, Worship Support, Graphic Design
Chuck Hartzell (RE): Young in Heart, Adult Sunday School
Jay Hettler (RE): Worship Leadership, Leadership Development
Kevin Koslowsky (TE): Moderator, Staff Admin, Pastoral Care, Women's Ministry, Faith Explored
Harold Naylor (RE): Men's Ministry, Leadership Development and Nomination
Bill Troppman (RE): Adult Sunday School
Mike Yurik (TE): Youth Ministry, Discipleship, Assimilation, Community Groups, Mary Campbell Center Worship

Reporting to the Session:
Rob Corwin, Asst Pastor: Children's Ministry & Outreach

Current Deacons
Nate Bird: Financial Secretary
Jason Hancock: Mercy Ministry
Joe Manbeck: Chairman
Ralph McCafferty: Mercy Ministry
Darrell Negley: Treasurer
Rick Schumeyer: Secretary & Worship Support

Reporting to the Deacons:
Jim Brown, Asst Pastor: Church Property & Facilities


Deaconesses are volunteers that work with the deacons in congregational mercy ministry. Deaconesses are part of our Women's Ministry Team.