Easter Family Fun Day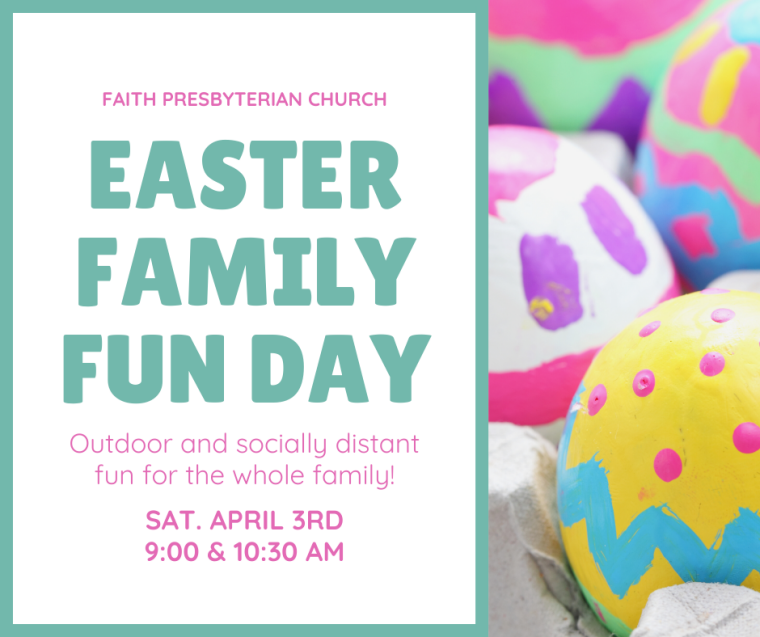 Saturday, April 03, 2021, 9:00 AM - 11:30 AM
Join us on the morning of April 3rd for outdoor and socially distant fun for the whole family!
Seating & Location
Bring your own chairs and set up a spot in our back parking lot.
Food & Drinks
There will be FREE donuts from Duck Donuts as well as coffee and juice for the whole family. Please let us know in your registration whether or not you would like to receive food.
Activities for Children
Scavenger Hunt with Prizes
When children arrive, they will get an activity bag with an instruction sheet for the scavenger hunt. Different items will be hidden across the church property to find. When the children have found the hidden items, they can stop by the prize table and receive different prizes for the items they found!
Activity Bags
Children will get a free Easter activity bag with Easter crafts they can make as they sit with their family. They can also color the bag and use it for the Easter egg hunt in the playground.
Easter Egg Hunt
The fenced-in playground will be set up for an Easter egg hunt for a limited number of families at a time and for children ages 10 and under. Kids can use their activity bags to collect the eggs, and the eggs will be hidden at different difficulties based on age.
Covid-19 Guidelines
Individuals ages 4 and up are required to wear a cloth face covering (cloth face covering is recommended but not required for children ages 2-3) except for while eating.
Social distancing of 6 feet or more is required (family members of the same household may remain together).
Children must remain with their parent/guardian at all times.
Hand sanitizer will be available.
Please stay home if you have a cough, high fever, or shortness of breath. Please stay home if you have had close exposure to anyone who has tested positive with COVID-19 in the past 14 days.
Rain Date
There will be no rain date available, so please pray for good weather!
Registration
Register for either the 9:00-10:00 am or 10:30-11:30 am time slot. Spots are limited, so invite your friends and register before spots fill up!