OUR GOD
An album of original music from Brent DeLeo and Faith Presbyterian Church.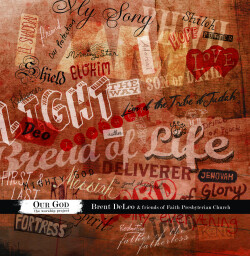 OUR GOD, the worship project

Songwriters: B. DeLeo, D. Booze
Lead Vocalists: B. DeLeo, R. Herr, A. Warren
Produced by: B. DeLeo
Artwork: B. Almond
Additional Musicians: B. Almond, D. Booze, A. DeLeo, S. DeLeo, R. Flenner, J. Giardiniere, D. Noll, J. Norris, R. Seemans, R. Scott, C. Taylor, J. Taylor, M. Troppman

Get Digital Album Now $0



ABOUT THIS ALBUM
Our God, the worship project is Faith Church's 2011 album release. Born out of the desire to seek our God with all of our being, this CD contains 12 original songs and arrangements, written and recorded by members of Faith Church. The tradition of local church musicians using their talent to bring new songs to God's people for the purpose of praise and worship continues right here at Faith Church. Support this ministry.
Physical CDs available in the Gathering Space at the church. Physical CDs or digital downloads available at our online store.
Brent is a follower of Christ, husband, father, and songwriter. From a teenager playing the piano for small military church services to being a worship leader at Faith Presbyterian Church, this album has been a long time coming. Brent has been into music all his life, but felt called to gather with his incredibly talented friends and record this collection of prayers that he hopes will point you to Our God.

He looks to share the songs that God gave him with a multitude of others through the release of his freshman album release. All distribution proceeds from the sale of this album will go to fund this ministry and continue to proclaim the name of Christ.